To Travel is to Inspire and To Be Inspired -I believe
My city-Surat which has more than 2200 properties identified as heritage value.The place where I was born and brought up has many hidden stories then why not to begin with it from My City.
This is about Gopipura . This area of Surat consists of many Jain Temples.Some of them are 400 years old.There is a lot of history attached with them . Surat Heritage committee arrange Heritage Walk especially for this area which covers minimum 25 Heritage Structures including Temples and Havelis .This walk is 2.5km long.
The Parshwanath Temple in the area has the biggest 55feet dome and it is even known for its embossed Panch Dhatu Plates .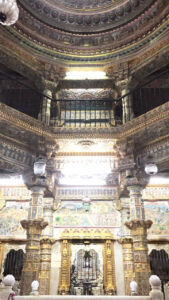 This area also has Sanskrit Pathshala . The temples also has very unique construction patterns,embossed walls,shapes and sizes the doors.